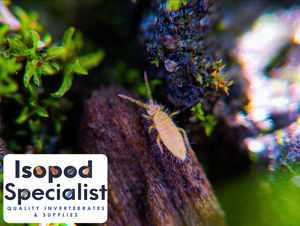 (Arid & Tropical) Springtails
Scientific Name: Collembola
Difficulty - Beginner
Size: 1-3mm (0.03 - 0.1 inches)
Temps - 65-85 Fahrenheit
Rate of Reproduction - Very Fast
Burrowing - Yes
Active - Very
Springtails, often known as "Springs" in the terrarium and dart frog hobby, are an important aspect of maintaining a healthy environment in your tank. This is one of our most popular clean up crews that are kept as pets due to their extremely low price and hardiness to survive a wide variety of environments which is partly why they are considered a beginner clean up crew for new hobbyists.
For Arid Springtails, make sure to maintain a humid and moist environment. Spaghnum Moss, Oak Leaves, and Water bowls are their best friends. Feed every other day with an appropriate amount of SpringCuisine.
For Tropical Springtails, capsulate them in about 1/2" non-activated charcoal. Feed every other day with SpringCuisine, and ensure the charcoal is wet, but not soaking. Springtails are unable to swim, but they must be kept in a moist and temperate climate.
Due to our affordable listings of this species we are most of the time sold out of springtails so if at the time of reading we are sold out, please understand we are doing as much as we can to put these back in stock.
If you're looking for a cheap and active Clean-Up-Crew with an impressive ability to survive, this is the crew for you. 
---